What have we been watching this week? What kept you hooked for more or frustrated when you had to wait for episodes to air? What made you call quits? Here's to sharing what we've been watching lately:
Hello, The Sharpshooter
Synopsis: Many years ago, when they were high schoolers, Tang Xin met the tall and dashing Yuan Shen Qing. She instantly fell for him, although she didn't tell him at the time. He told her that he wouldn't forget her, but since then, their paths have gone in different directions: She has become a trainee reporter, while he has become the country's leading 50-meter pistol shooter, heading China's bid for Olympic glory. As the pistol shooting team prepares for the Olympics, Tang Xin is assigned to interview him. But when she is suddenly confronted by the man she held a candle for, she is overcome with nerves. He, meanwhile, is dismissive and cold toward her.
Tang Xin is assigned to film and interview the team as it prepares for the Olympics, but Yuan Shen Qing finds that he is unsettled by her presence, as it even starts to interfere with his performance. He cannot seem to understand why his aim is affected by Tang Xin. But as they spend more time together, he starts to wonder if he isn't perhaps falling for her. Will Olympic glory – and maybe romance – come calling?
Review: Meh, I was so ready to like this. Cute leads, cute story, set in a school setting. All elements that I generally like in C-dramas. However, the story was just really really weird. Cue "the reason I like you is pheromones similar to how cats can't resist catnip" like…whaaat???? Also the height difference between Hu Yi Tian and Xing Fei is just crazy. She looks like a toy child standing next to him. So many things about their relationship was also just really strange – from him initially hating on her and being mean, to him suddenly being irresistibly attracted to her. Get your act together, c-dramaland!
Overall Score: 3/10
Legally Romance
Synopsis: At twenty-eight years old, Qian Wei should have been well on her way to establishing herself in her career. However, working as a paralegal for Lu Xun has so far proven to be anything but awesome. Harboring a grudge that dates back to their days as students, Lu Xun has made sure Qian Wei's life is nothing short of a living hell. But when Qian Wei becomes the victim of a tragic accident, everything changes. Now in a coma, Qian Wei finds herself in a dream world in which she has reverted back to her teenage self. It's here, in the world within a world, that she finds a very different Lu Xun. Meeting him in this dream world, Qian Wei discovers an entirely different side of her persnickety boss. Spending her days drifting between dreams and reality, Qian Wei begins to understand there's more to Lu Xun than meets the eye. At the same time, he begins to realize that the same holds true for her. In the space between dreams and reality, Qian Wei and Lu Xun begin to realize their feelings for each other have taken a drastic turn. Struggling to make sense of these newfound feelings, can Qian Wei and Lu Xun find a way to accept what has grown between them without sacrificing their professional aspirations?
Review: This is so superficial but Z. Tao is not at all good-looking to me, which made me not want to watch this drama. However, there's been a dearth of chinese dramas lately and so…I ended up watching this. It's not bad? Not the best c-drama but not as painful as I'd thought it would be. If you want a cute, enemies-to-romance story, this would be it!
Overall Score: 5/10 (I ended up dropping it sadly)
Royal Feast
Synopsis: Set during the Ming dynasty during the rule of Yongle Emperor, it tells the story of a young girl named Yao Zijin, who entered the palace to become a maid of the food bureau. In the deep palace, she remains determined and slowly works her way up while perfecting her craft; while making friends and encountering an unexpected romance at the same time. Through her romantic entanglement with Zhu Zhanji, the drama also showcases the historical achievements and family life of three outstanding emperors of the Ming Dynasty, portraying a gourmet Forbidden City full of rich family affection, friendship, love and humanity.
Review: I really enjoyed this drama. All the elements of historical costume, political intrigue, cute romance, some mystery, and tada – this is a drama that drew me in! I was also probably biased by the main leads – I'd watched Xu Kai and Wu Jin Yan in Yanxi Palace and was pretty salty that they didn't end up together. I am fully expecting them to end up together in this drama!
Overall Score: 8/10
Business Proposal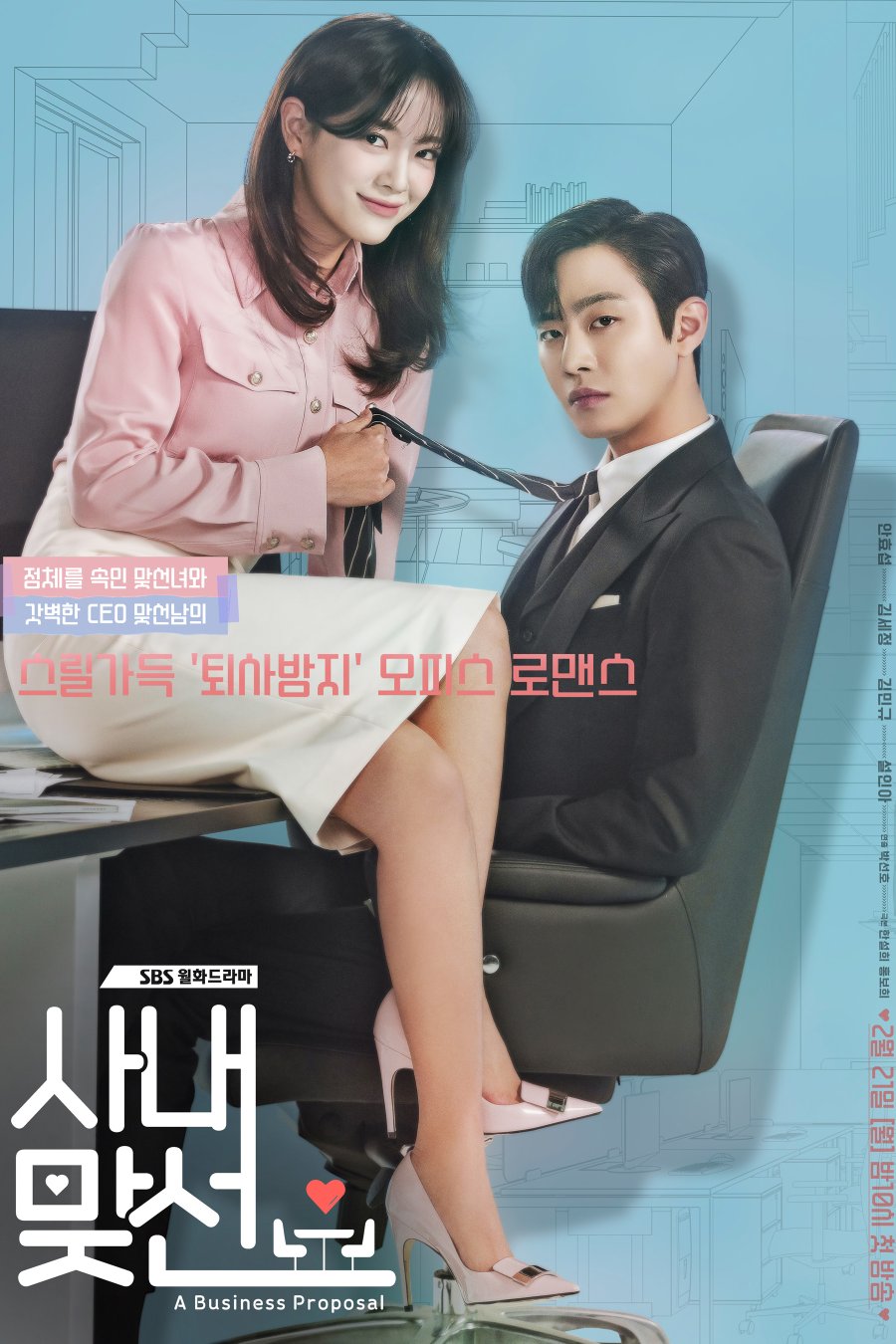 Synopsis: Shin Ha Ri is a single woman and works for a company. She has a male friend, who she has had a crush on for a long time, but she learns he has a girlfriend. Shin Ha Ri feels sad and decides to meet her friend Jin Young Seo, who is a daughter of a chaebol family. Jin Young Seo then asks Shin Ha Ri to take her place in a blind date and even offers some money for her time. Shin Ha Ri accepts her friend's offer. She goes out on the blind date as Jin Young Seo, while having the intention to get rejected by her date. When she sees her blind date, Shin Ha Ri is dumbfounded. Her blind date is Kang Tae Mu. He is the CEO of the company where she works. Kang Tae Mu is the CEO of a company that his grandfather founded. One day, his grandfather informed him of an upcoming blind date that he set up for him. Kang Tae Mu is a workaholic and he is annoyed that his grandfather sets up blind dates for him. He decides to marry the next woman whom he meets at a blind date, so he won't be disturbed from his work anymore. That woman is Shin Ha Ri, but pretending to be Jin Young Seo. On the following day, Shin Ha Ri receives a phone call from Kang Tae Mu. He asks her to marry him.
Review: This k-drama is just unicorns and rainbows. It is hilarious and just so darn cute. If you're not watching this right now, you need to.
Overall Score: 9/10
Twenty Five Twenty One
Synopsis: The story is set in 1998 and tells the stories of youth who find new direction and growth after having their dreams taken away. Two people first meet when they are 22 and 18 years old and fall in love years later when they turn 25 and 21. Na Hee Do is a member of her high school fencing team. Due to the South Korean financial crisis, the high school fencing team gets disbanded. Getting through all the difficulties, she becomes a member of the national fencing team. The South Korean financial crisis also causes Baek Yi Jin's father's business to go bankrupt. This leads to a life change for Baek Yi Jin, from living the life of a wealthy person to a poor person. While studying, he works part-time jobs like delivering newspapers. Later, he becomes a sports reporter for a broadcasting network.
Review: Another super cute k-drama that is currently airing. I was prepared to not like this because I don't love Nam Joo Hyuk as an actor but after the first episode, this ended up being so super duper cute on multiple levels. The friendship, the romance, the fight to become the best fencing player, the relationship between grandma-mom-daughter, the father-daughter hobby time, etc. etc. Please watch! (Note: ending is not what I expected)
Overall Score: 9/10
https://pinkletterdays.com/wp-content/uploads/2022/03/2521_groupposter-1.jpeg
686
980
pinkletterdays
http://pinkletterdays.com/wp-content/uploads/2021/06/PinkLetterDays.png
pinkletterdays
2022-03-17 21:01:47
2022-05-17 21:05:26
What we've been watching (March, 2022)