What have we been watching this week? What kept you hooked for more or frustrated when you had to wait for episodes to air? What made you call quits? Here's to sharing what we've been watching lately:
To Fly With You
Synopsis: Shen Zheng Yi, a girl who loved ice-skating, has found her goal after participating and advancing in a winter sports competition. Behind her mother's back, she decide to try entering the Zhu Feng Sports Club in order to become a professional short track speed skater. From not having experienced profession training, she undergoes tough challenges both physically and mentally; and finally succeeded in entering the club. However, she faces new challenges – learning new professional techniques, cooperating with her team-mates and also dealing with her mother's opposition. An old incident involving Zheng Yi and her mother, as well as her coach Zhuang Yue was also unveiled in the process. With the encouragement of her close friend Shao Beisheng from the figure skating team, she overcomes these obstacles and wins the trust of her team mates, becoming the black horse of the competition season. She also reaches mutual understanding with Zhuang Yue, and formed a close teacher-student bond with her. Two generations of short track speed skaters continuously fight for their dreams without giving up, giving their all in the competition.
Review: Cute, lighthearted C-drama centered around ice skating and speed skating. I saw Wang An Yu first in Forever Love and have kept my eye on his dramas since then. If you're looking for a fun watch, this would be it! I know my score isn't that high but it's because it's not that memorable; that being said, this drama is better than most C-dramas.
Overall Score: 7/10
I Don't Love You Yet
Synopsis: Mitarai Yo is a career woman who works for a shoemaker. She finds her work rewarding and has successfully advanced in her career. But she keeps having her heart broken and her romantic life has not gone well lately. Ishida Ren works for a developer and is Yo's best friend. As a former high school and university classmate, Ren is the only person she pours her heart out to, and he understands her best. On Yo's 29th birthday, the friends place a wager with each other to see which of them can be married within the following year. If either fails to wed prior to her 30th birthday, the loser must pay the winner a congratulatory sum of 300,000 yen. Declaring it impossible for them to fall in love with one another, their wager, plus the advances of a junior of Ren's at his company and Yo's reunion with her ex-boyfriend, Mizusawa Ryusei, all lead to gradual changes in the relationship of these best friends.
Review: Wow a well-done J-drama! Can you imagine? I jest but I really enjoyed this J-drama. The friendship, the character growth, the sweet but subtle romance. From friends to more in an innocent and heartwarming way.
Overall Score: 10/10
Reset
Synopsis: When Li Shi Qing awoke that fateful morning, she had no idea her life was about to change forever. Going about her day as usual, Shi Qing boarded the bus without ever giving her actions a second thought. But when the bus she was on was involved in a horrendous accident, Shi Qing had only seconds to realize that her life was about to end. Or was it? Waking up that very same morning, going through the exact same motions, boarding the same bus, and dying in the same accident, over and over again, Shi Qing soon realizes that she has become trapped in a never-ending time loop. Desperate to find a way to escape not only the loop but her tragic fate, Shi Qing inadvertently drags fellow bus passenger, Xiao He Yun, into the loop with her. Together they try to find a way to alter their fate, by ensuring the bus arrives safely at its destination but attempting to do so proves anything but easy.
Review: Oof I went into this drama fully expecting to dislike it because I don't love time loop dramas and the plot did not stand out to me. But alas, there weren't many other interesting dramas airing then so I gave it a try and I'm so glad I did. Bai Jing Ting continues to surprise me with the wide range of roles that he does well. I guess you can never tell how good an actor is by their IG. This drama is short (15 episodes only!!), sweet (friendships, romance, trust with the police, family ties), and just really well done.
Overall Score: 10/10
Noble Boys
Synopsis: When Mugi Aihara read, in her favorite magazine, that the heirs to four of the biggest corporations in Japan were on a public quest to find their one true love, she could hardly believe what she was reading. When she realized these four gorgeous princes were searching for their destined princess via a new reality show, she dropped everything she was doing and immediately started filling out a contestant application. A few days later, Mugi got the shock of her life when she received a text informing her that among the 700,000 applications vying for the chance to participate in "Marry the Prince", she had been selected as one of the three lucky contestants. Besides herself with joy, she happily accepted the invitation, along with two other high school students, Fumino Ono and Yu Shibayma. Together, the three girls excitedly begin filming, only to find that life as a reality show contestant isn't exactly what they'd imagined it would be. Wealthy and entitled, Riku Nikaido, Taiga Saionji, Terunoshin Minai, and Tatsunari Date were far from the dashing princes of fairy tales. Caught up in the drama of their own lives, the four princes have more fun teasing the girls than they do wooing them as none of them really believe they'll actually find true love. But each of the participants soon learns that fate can be a funny thing and that love has a way of finding you when you least expect it.
Review: Not much to say except this is a rather cliche J-drama – cute boys who try to look cool, cute girl lead who is sweet and innocent. Nothing really terribly wrong with this drama but it's not a physics lesson that's for sure.
Overall Score: 7/10
Because Of Love
Synopsis: Tan Jing is a single mother whose son has natural heart disease. In order to save up for her son's surgery, she leads a thrifty life. However, she has no complaints and lives life positively, raising her son Sun Ping to be obedient and sensible. Nie Yu Sheng is a heart surgeon who is working on funding a surgery project that helps children with heart disease. He picks Sun Ping as his first patient. During the treatment, he finds out that Sun Ping's mother is Tan Jing, his lover seven years ago. He is attracted by Tan Jing's calm and determined aura, and Sun Ping's adorableness and sensibility.
Review: Wallace Chung is back in a melodrama! With Li Xiao Ran too! He truly is the king of melodramas served with a heaping of romance. No one does agony quite like Wallace Chung – the sad pining looks, the unassuming, humble serving heart, the slightly awkward posture and walk because he doesn't know how to reconcile with his one true love. There is so much sadness and heartbreak in this drama. It makes you really treasure the good things in life and…clear communication.
Overall Score: 8/10
The Autumn Ballad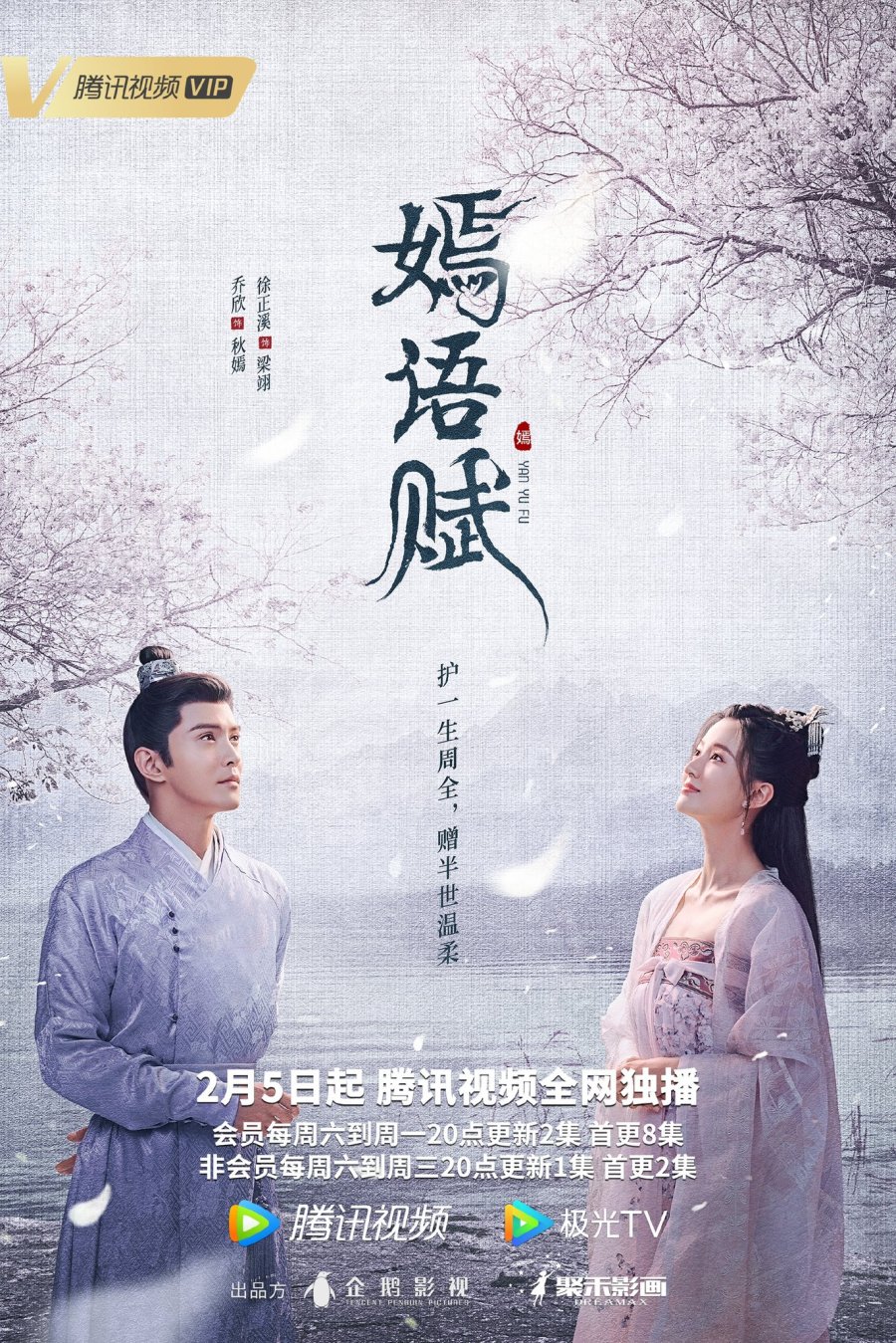 Synopsis: The story of a witty young girl named Qiu Yan and a cold-faced duke named Liang Yi, who goes from battling each other with wits and boldness to understanding and accompanying each other. Qiu Yan is the least favored eldest daughter of the Qiu Manor. She managed to reap happiness step by step relying on her own efforts and wisdom.
Review: This started out so strong and amazing….but had a weak ending. Why do you do this to me C-drama writers? Honestly started out as a 9/10 and ended as a 5/10. How disappointing.
Overall Score: 5/10
Novoland Castle In The Sky 1
Synopsis: Peace had been maintained between the Human Clan and Winged Clan for a century. However, the Winged Clan grew weaker as the Flower Fairy of Shooting Stars they relied on for their ability to fly went missing. Meanwhile, the Human Queen had been secretly constructing a floating castle with a blueprint stolen from the Winged Clan, preparing for war. Eighteen years later, Yi Fuling, the reincarnation of the Flower Fairy, escapes from a forced political marriage to the Crown Prince. With her father kidnapped and the whole country going after her, she seeks refuge from the Winged Clan's King.
Review: Gave this a try because of Zhang Ruo Yun (and also Guan Xiao Tong is cute) but the production was pretty meh.
Overall Score: 3/10
Novoland Castle In The Sky 2
Synopsis: A story between a golden-winged Feng Ruche and Xue Jingkong, the most distinguished sorcerer in the great plains of Lanzhou. Many powerful forces are searching for the only daughter of Feng Tianyi and Yi Fuling in a plot to usurp power by holding her hostage.
Review: Watched the first season and wasn't impressed but I like Xu Zheng Xi so gave this season 2 a try and guess what…I wasn't impressed either.
Overall Score: 3/10
Luoyang
Synopsis: Gao Bing Zhu is a notorious deputy marshal who in society, sits on the bottom rung of the ladder. One day, he finds himself a suspect in a crime, requiring him to prove his innocence. While investigating, Gao Bing Zhu meets a young man named Baili Hong Yi, who is searching for the truth behind his father's death. They team up to solve both mysteries. A woman from a well-moneyed family with superior martial arts skills and in possession of strong survival instincts is on a mission of her own. She approaches Gao Bing Zhu to pry information out of him. Despite their mutual dislike for one another often stemming from annoying class differences, they soon find themselves joined at the hip. Their investigation unearths a shocking conspiracy. Once made public it will likely destroy the entire city and leave Luoyang with blood on his hands.
Review: Wasn't my fav genre because there's a bunch of politics and thriller type scenes with some kinda awk romance but overall was actually pretty well done. Came for Wang Yibo but stayed for the story.
Overall Score: 8/10
Legend of Lu Zhen
Synopsis: Lu Zhen was the elder ambitious daughter of the Lu family, who successfully ran the family porcelain business, much to her father's delight and her stepmother's jealousy. Afraid of Lu Zhen taking much of the family assets upon her impending marriage, her stepmother Zhao Yinglan schemed to poison her father and attempted to frame Lu Zhen for the murder. When Lu Zhen was acquitted, her stepmother arranged for her to marry off as a concubine to an old man so that she could seize the family assets. Lu Zhen fled and was saved by Prince Gao Zhan who fell in love with Lu Zhen due to her resemblance to his first love Xiao Huan Yun.
Gao Zhan faced the same family problem; when his father died, Empress Lou usurped his succession to the throne so that her own son and Gao Zhan's elder half-brother, Prince Yan could become emperor. Though Gao Zhan's connection, Lu Zhen entered the palace to become a maid, with the aim to rise to a sixth rank female official so that she could appeal to the supreme court to re-investigate her father's murder. Amidst the constant scheming between Prince Zhan and Empress Lou in the fight to claim the throne, Lu Zhen managed to gain the emperor's support and rise through the ranks with her hard work, intelligence, and luck. She then helped Prince Gao Zhan claim his rightful throne, but could not be his empress due to certain circumstances. Gao Zhan instead conferred her the title of prime minister upon his ascension, which is the highest position in the court so that she could best exercise her talent and aid him in ruling the country.
Review: I like Zhao Liying as an actress and enjoyed Ming Lan. This was an older drama of hers but thought I would give it a try. It's ok – a little outdated and maybe I wasn't in the mood but the production value seemed kinda low.
Overall Score: 6/10
Our Beloved Summer
Synopsis: Years after filming a viral documentary in high school, two bickering ex-lovers get pulled back in front of the camera — and into each other's lives. Choi Woong seems naive and a free-spirited man, but he wants to have something for the first time in his life. For that, he shows what he holds in his mind. Kook Yeon Soo aimed to become the top student at her school, but she is now an adult who lives fiercely, adapting to her reality.
Review: This drama is ridiculously adorable. I love the characters – all of them. So much angst, so much coming-of-age, so cute and sassy. Please watch. Not giving it a full 10/10 because the ending felt a bit dragged out.
Overall Score: 9/10
Oh My Lord
Synopsis: It tells the love story of the smart and cheerful girl, Chen You You, who was forced to marry the unpredictable Lord QianSui, Bai Li. Bai Li is the great eunuch who is highly relied upon by the city lord. The unpredictable Lord QianSui has a cold personality and became the first handsome man in Fuxian City. He hid his identity as a fake eunuch to find out the truth of the unjust case in the same year. Meanwhile, Chen You You is a smart and cheerful girl who really yearns for a happy and free life, but her family is very strict to her.
Review: Ugh I started watching and couldn't finish. I guess that tells you enough about this. Very cheesy and the acting feels forced.
Overall Score: 1/10
https://pinkletterdays.com/wp-content/uploads/2022/03/qZyPz_4f.jpeg
1277
900
pinkletterdays
http://pinkletterdays.com/wp-content/uploads/2021/06/PinkLetterDays.png
pinkletterdays
2022-03-17 19:09:07
2022-03-17 19:14:00
What we've been watching (March 17, 2022)