What have we been watching this week? What kept you hooked for more or frustrated when you had to wait for episodes to air? What made you call quits? Here's to sharing what we've been watching lately:
The Red Sleeve
Synopsis: In Korea during the second half of the 1700s, Yi San is an aloof and perfection-loving young prince. His father's killing haunts him, although it leaves him in the position to take the throne once his grandfather – the cruel and ruthless current king responsible for Yi San's father's death – dies. He has resolved to become a benevolent monarch who will reform the law when he eventually takes the throne, but the way his father was killed has scarred him emotionally.
At court, he meets a young woman named Sung Deok Im. Yi San falls in love with her and tries to convince her to become his official concubine. But Sung Deok Im is strong-willed and free-spirited. She is also intelligent enough to understand that becoming a royal consort to the future king is a prestigious role, but one that would restrict her freedom and likely bring her little in the way of joy. But Yi San's love for Sung Deok Im is true, and she starts to understand that forming a union with him could ultimately benefit his troubled realm.
Review: Oh my goodness, this drama was insanely addictive and so well done…up to episode 15. I loved this drama so much and then, without revealing too much about the ending, felt wrecked by the ending. I'm guessing there are folks who liked the ending but I wasn't a fan at all. This was a really beautiful drama with an amazing storyline, acting, and just all around great cinematography. Such a realistic plot as well and I loved how the show didn't paint everything in rosy colors. For example, becoming a favored concubine isn't the best thing that could happen to a court lady.
Became a huge fan of Lee Junho (2pm) from this drama. Where has he been all this time in my life?? Am very impressed with his acting chops because most idols struggle to do well with acting.
Overall Score: 9/10
The King's Affection
Synopsis: The story is set during the Joseon Dynasty, at a time when twins were considered an ominous sign. As a result, when the Crown Princess Consort gives birth to twins, an order is sent to kill the daughter. To save her, she is secretly sent out of the palace. A few years later, the twin daughter Da Mi returns to the palace to work as a maid. When the male twin, Lee Hwi, loses his life through a case of mistaken identity, their mother, having recognised her daughter as court maid Da Mi, persuades her to take Lee Hwi's place. Although she distances herself from everybody, Lee Hwi starts developing feelings for Jung Ji Woon, her original first love and later teacher who comes from a noble family.
Review: In terms of storyline and cinematography, this drama did fine. I didn't love parts of the plot or the acting too much. I couldn't quite feel the chemistry between the main leads, which is probably more to do with the storyline than anything. The female lead acts as a stiff and proper crown prince, which I think is part of my problem with the drama. Lots of idols-turned-actors in historical kdramas lately with Rowoon in this one and Lee Junho in "The Red Sleeve".
Overall Score: 7/10
Love At Night
Synopsis: Xu Qing You is a hard-working, focused woman with a senior position at an up-and-coming firm. She is devoted to her job and is also in a relationship with Fan Yun Xi, whom she has been dating for 10 years. They are planning to wed in the near future, but when she discovers he had a fling with another woman, she is incensed and decides to break off the engagement. She later heads to a bar to drink away her sorrows. At the bar, a man named Mo Ling Ze performs a musical number on stage. She recognizes him as a man she'd run into earlier in the day in the street and had a minor and slightly unpleasant exchange of words with. She is very drunk and gets talking to him. The next day, she wakes up in a hotel room with only vague recollections of the end of the night, assuming that she has had a one-night stand with him. To her horror, she turns up to a meeting the next day…only to discover that Mo Ling Ze has taken over the operations at her company. The duo is forced to spend time together, but eventually realizes that they have a lot in common and appreciate one another's charms. Meanwhile, her former fiancé is desperate to win back Xu Qing You's heart. Will she return to her former love, or could a new romance be in the cards for her?
Review: Pros were strong female character. Cons were annoying supporting characters. Lost interest after some point and dropped the drama.
Overall Score: 5/10
Fall In Love
Synopsis: In the year of 1926, Mu Wan Qing brings her mom's ashes back to China burial. On the pretense of surrendering to her father, Mu Wan Qing's actual motive is finding the true reason why her parents separated and her brother died. Meanwhile, a coup d'état occurs among the Shanghai army, and the once oppressed Tan Xuanlin rose up to become the new commander of troops. However despite his new authority, he still finds himself walking on thin ice. Xu Guang Yao, the son of the Commander of Yue Cheng, is a man revered and admired by many. However, he dislikes the power struggles within the political field. A chance encounter lets Mu Wan Qing, Tan Xuan Lin and Xu Guang Yao meet and befriend each other. In order to secure her foothold within the Mu family, Mu Wan Qing intentionally gets close to Xu Guang Yao and have his backing. Meanwhile, Tan Xuan Lin works alongside Mu Wan Qing to investigate an old case that is related to the Mu family. The three of them goes through life-and-death struggles together, and eventually realizes the importance of protecting the country in the tumultuous times.
Review: I loved the first half of this drama. The plot was interesting and the characters had great growth. It's also set during an interesting time in history and I feel like there aren't that many dramas set during that time.
Overall Score: 7/10
Sword Snow Stride
Synopsis: Xu Xiao has risen to become the King of Northern Liang at a time of great upheaval in China. Steppe kingdoms have risen with deadly intent, and rebellious uprisings threaten to destabilize the realm in the south. Against all odds, Xu Xiao has managed to defeat them all. Meanwhile, his unconventional, free-spirited son and heir Xu Feng Nian has spent years on the road, honing his horse skills and fighting prowess. Along the way, he meets the double sword-wielding martial arts expert Nan Gong Pu She, a woman who becomes his confidante. Also joining the royal household is a woman named Jiang Ni. At age 12, she joined the court of the Northern Liang. However, she is actually the princess of a rival kingdom, and could be harboring deep sentiments of revenge. When Xu Feng Nian has to take to the throne, some at court worry that he will not be able to follow in the footsteps of his father. But things come to a head when the party has to travel to another province to fight a decisive campaign, the outcome of which could determine the very future of the realm.
Review: After watching Zhang Ruo Yun in "Joy Of Life", I've been keeping him on my radar. To be honest, when I saw the first episode of this drama, I was not super intrigued. The first episode didn't really give great insight into the type of character that Xu Feng Nian, played by Zhang Ruo Yun, would become later in the drama. I'm glad I gave it another go and did enjoy the drama. It's very very similar in style to "Joy Of Life" in the sense that the main characters are politically savvy and big strategists. However, this drama lacks a bit of the polish that "Joy Of Life" had – the fight scenes used too much bad CGI, and some of the characters here weren't very smart and kept doing the same thing. The female lead has gotten a lot of hate and to be honest, people are right – her character feels a bit lackluster. Regardless, it's an okay watch.
Overall Score: 6/10
Vincenzo
Synopsis: At the age of eight, Park Joo Hyeong went to Italy after being adopted. He is now an adult and known as Vincenzo Cassano to the Mafia, who employs him as a consigliere. Because mafia factions are at war with each other, he flees to South Korea, where he gets involved with lawyer Hong Cha Young. She is the type of attorney who will do anything to win a case. Now back in his motherland, he gives an unrivaled conglomerate a taste of its own medicine with a side of justice.
Review: I had seen Vincenzo a lot on Netflix but did not get the plot initially. What do you mean a Korean lawyer in the Italian mafia?? Started watching it after multiple people recommended it and it did not disappoint! It's a comedic thriller and honestly made for Song Joong Ki. He really shines in this drama as the cool, tough, basically perfect male lead who is able to bring down the bad guys through his smarts and fighting abilities. I enjoyed it and would recommend!
Overall Score: 8/10
My Sunshine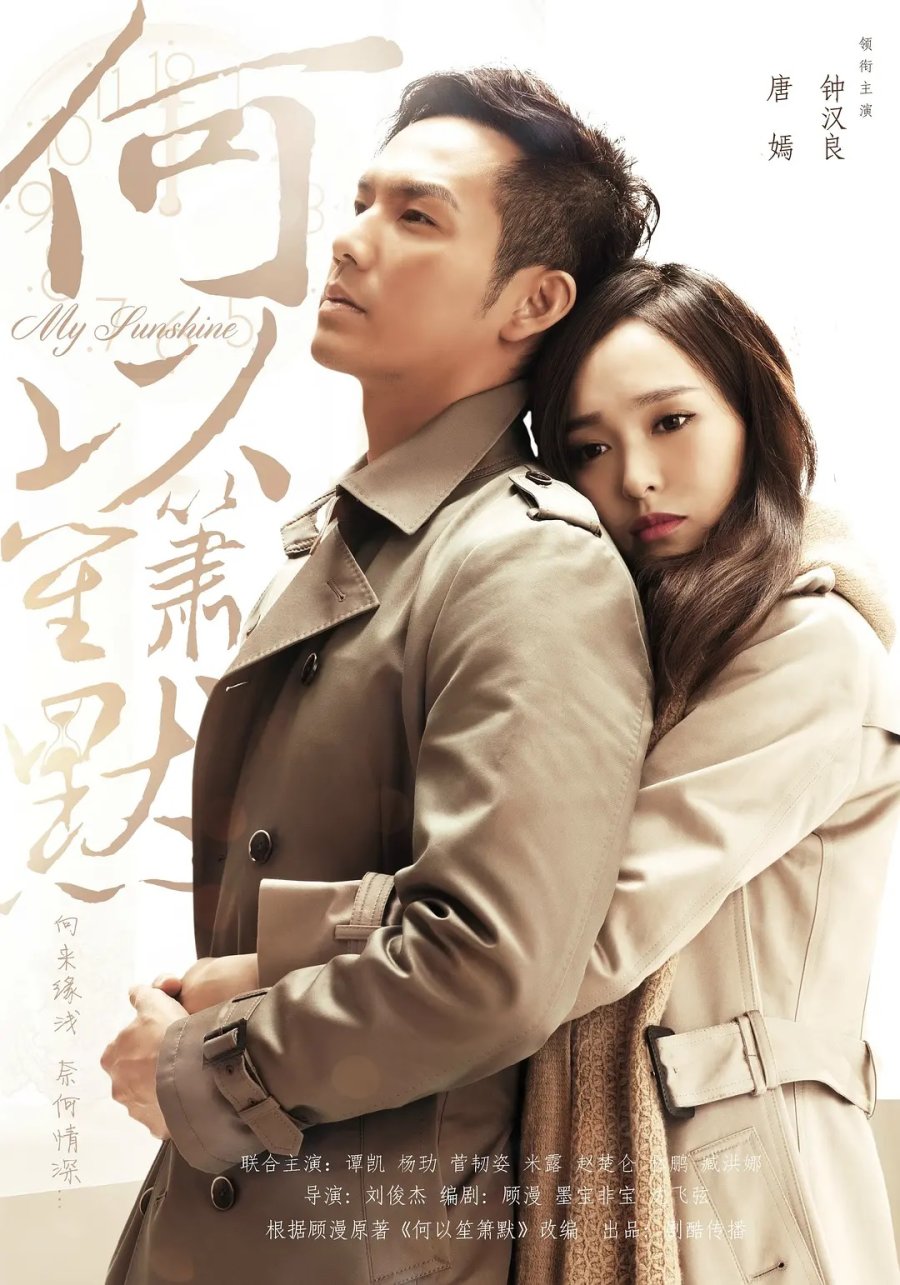 Synopsis: Zhao Mo Sheng is a university student with a sunny disposition, she's smart, and has a positive personality. Upon their first meeting, she fell in love with He Yi Chen, one of the top students from the Law faculty. He Yi Chen gradually warmed up to her and they became a loving couple. One day he abruptly breaks up with her and she is forced by her father to depart overseas without ever getting an explanation from Yi Chen. Seven years later, Zhao Mo Sheng returns home and spots him immediately in a crowded supermarket. As their paths inevitably continue to cross in present time, details and secrets regarding their break-up and the years in between are revealed. Will the two college sweethearts be able to reunite?
Review: I realized that I like these types of dramas where there's a lot of push and pull between the characters. Wallace Chung delivers an impressive performance here – you can really feel his angst and agony in the development of his relationship with Tiffany Tang. A sweet melodrama to watch! I'd watched this two years ago and just re-watched it. Would recommend!
Overall Score: 8/10
https://pinkletterdays.com/wp-content/uploads/2022/01/Junho-Lee-Se-Young-1-scaled.jpeg
1708
2560
pinkletterdays
http://pinkletterdays.com/wp-content/uploads/2021/06/PinkLetterDays.png
pinkletterdays
2022-01-19 22:30:46
2022-01-19 22:30:49
What we've been watching (January 19, 2022)