What have we been watching this week? What kept you hooked for more or frustrated when you had to wait for episodes to air? What made you call quits? Here's to sharing what we've been watching lately:
Crush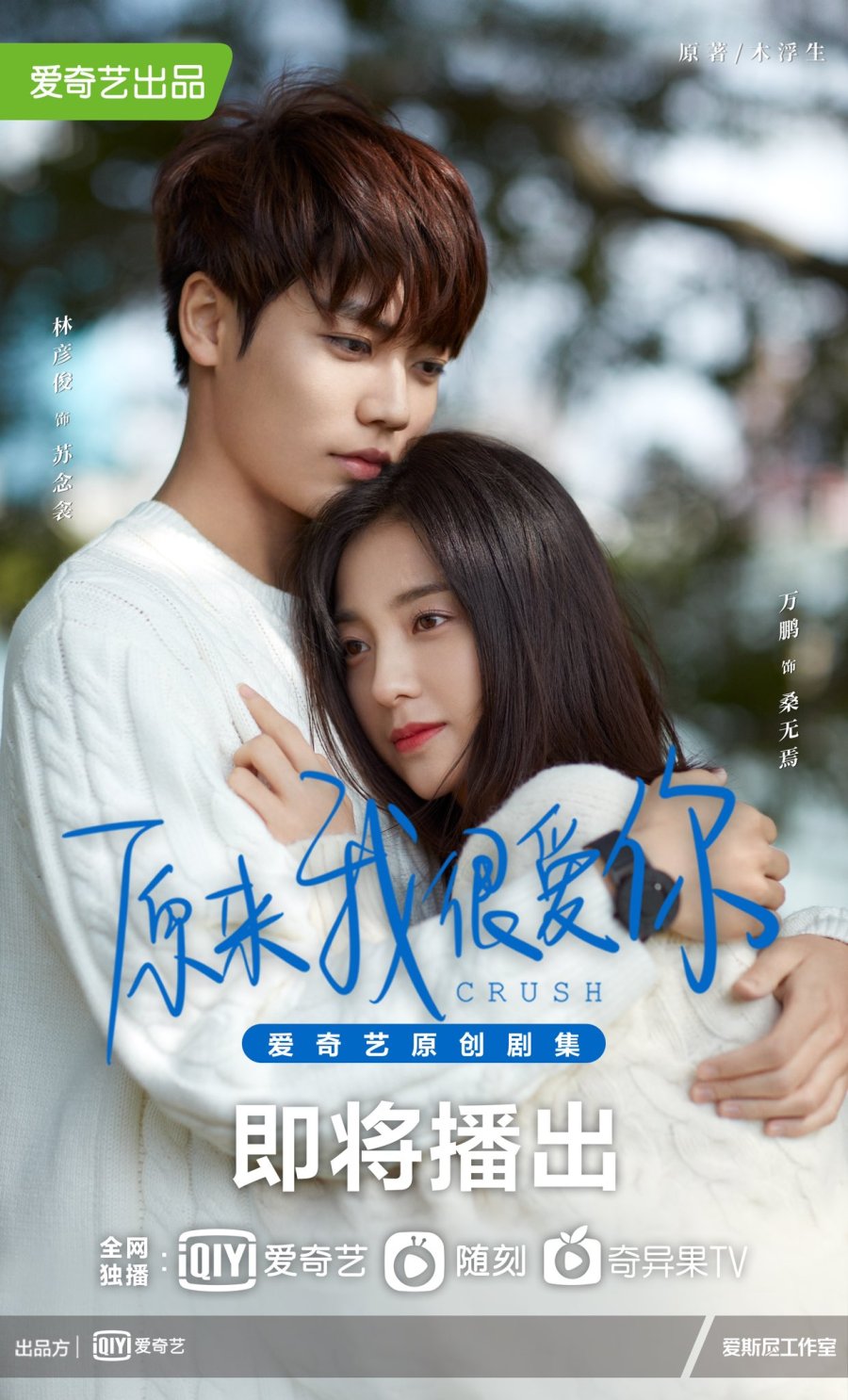 Synopsis: Sang Wu Yan, a college senior, dreams of becoming a broadcaster. She works as an assistant at a radio station and likes a mysterious songwriter with the name "Yi Jin". She fell in love at first sight after a chance meeting with Su Nian Qin and later discovers that he is visually impaired. Layer by layer, Sang Wu Yan peels off Su Nian Qin's elusive, arrogant and indifferent shell due to his broken family. She then learns that he was in fact the talented 'Yi Jin'. Their interactions lead to a sweeping romance but the couple finds themselves in a tug of war between their hard-earned happiness and a fear of loss. Mounting pressure eventually leads to a breakup. Three years later, the two people who have gone down different paths meet again.
Review: I did not expect to like this drama but I did! Our male lead, Su Nian Qin, is visually impaired, while our female lead, Sang Wu Yan, is tone deaf. This drama is adapted from a popular novel and I can see why! It was cute watching how Sang Wu Yan peel back the layers of Su Nian Qin's prickly-ness and selfishness. I liked that this drama wasn't all romantic and sweet. There was a serious breakup phase and the characters are both flawed in their own ways. I liked their relationship – it was sweet, calming, romantic, but also very realistic. I also liked the parent-child relationship between Sang Wu Yan and her parents. Their concerns for her were very realistic and revolved around her career, dating someone appropriate, etc.
Funnily this drama ended up being a CEO drama even though the male lead started off as a visually impaired popular songwriter. Luckily, he's not a conventional CEO dude.
Overall Score: 8/10
One and Only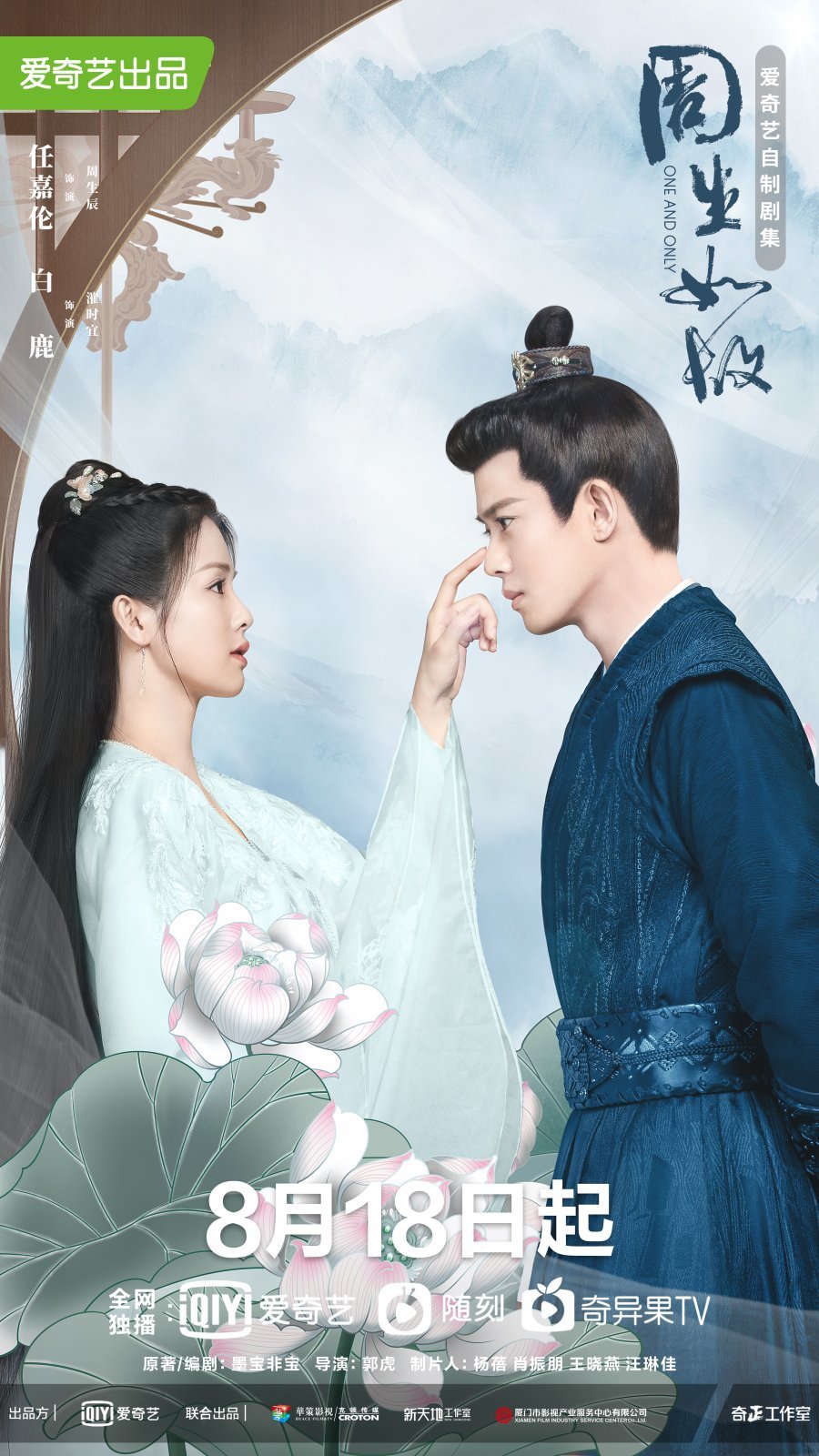 Synopsis: Zhou Sheng Chen, son of Prince Nan Chen, is an accomplished general who is loyal to the country. Cui Shi Yi, daughter of an esteemed family, is the appointed Crown Princess since birth. As both their families are acquainted, Cui Shi Yi was sent to the Zhou Manor to learn some skills. There, Zhou Sheng Chen and Cui Shi Yi got to befriend each other. Cui Shi Yi grew to admire Zhou Sheng Chen's lofty ambitions and gentlemanly character and slowly fell for him. She becomes his greatest support and companion, helping him wait for intelligence in the manor, and going to war with him. However, their relationship could not take a step forward due to their respective responsibilities. When the borders are once again endangered, Zhou Sheng Chen has to lead the army to battle enemies, while Cui Shi Yi has to complete her wedding with the Crown Prince. Will they end up together?
Review: I am not embarrassed to say that I binged this drama in one weekend. I became a fan of Ren Jia Lun after watching "Under The Power" and I am happy to report that he did not disappoint in this drama. His role in this drama is pretty similar – he's the upright, loyal, virtuous leader who wants to protect his country and his loved ones.
This drama is based on a novel and details a love story spanning two life times. I didn't know this prior to watching but the story is split into two different dramas! "One and Only" is the first half and the second half will be released in September.
The first few episodes of this drama were beautiful. They had a mellow, serene, romantic tone and the pacing was a little slower. There were also some bits of humor thrown in like all of Cui Shi Yi's bowing. Bai Lu is one of my favorite actresses. She also did a fantastic job here – she usually has a very spunky bubbly personality but her role here was completely different. She's serene and mellow – I mean she also loses her voice for many episodes. Yet, her quiet and gentle personality really shines through. I was amazed at her acting.
The middle part of this drama involves a lot of politics and to be honest, that was the boring part for me. I'm not a fan of palace politics and half tuned those parts out.
*Spoiler alert* This drama ends in heartbreak, which makes sense because we end up having the second part which is a modern sequel. I was wrecked by the ending of this drama and then found out about the sequel which helped me feel better.
Overall Score: 8/10
Our Secret
Synopsis: Ding Xian and Zhou Si Yue met in childhood as their families are close friends. They even had a wawaqing which means betrothal at birth. They end up being desk mates in high school and Zhou Si Yue is an academic genius who loves robotics. Ding Xian starts off as an anti-social, introverted girl who is headstrong and stubborn in pursuing what she wants to do. Although they have a hard time getting along with each other at first, they eventually come to appreciate each other and support each other.
Review: I had low expectations going in but I really liked this drama! All of the leads were new to me but they really embodied their roles super well. Chen Zhe Yuan did a great job of being the perfect Zhou Si Yue. He's pretty perfect, knows who he likes, and only takes care of her. He's not particularly verbose or "act cool" but his lines were amazing. I loved that the drama didn't go over the top with making him look cool but he was still able to look very cool.
Ding Xian was such an interesting character. In the beginning, I couldn't decide whether I liked her or not. She was clumsy, stubborn, and made a lot of silly mistakes. It didn't help that her character is an introverted wallflower… Help me see why I should like her, drama? In the end, I was able to get behind their chemistry and the idea that they were meant to be from childhood. Funny enough, I have a high school friend who is like Ding Xian – she wasn't the fastest learner but she was incredible hardworking and ended up doing well academically.
Overall Score: 8/10
Stand By Me
Synopsis: In the 9th Century Tang Dynasty-era China, the Emperor is locked in a deadly power struggle with a group of formidable eunuchs who wield enormous power at court. He strikes back by ordering the death of their ringleader Qiu Shi Liang, who is the head eunuch. But the mission is botched. The eunuchs get their revenge by murdering the Emperor's loyal first minister, Wang Yang, along with his entire family but his twin granddaughters, later known as Cheng Ruo Yu and Qiu Yan Zhi, escape.
The eunuchs now seize yet more power over the royal court, rendering the current Emperor, Qi Yan, a mere puppet. The minister's two granddaughters have evaded detection but through different means. Ruo Yu had lost her memory and so doesn't know who she is. She becomes a skilled fighter and is appointed the highest level sword holder, responsible for protecting the emperor's life. Her older sister, Yan Zhi, embeds herself in Qiu Shi Liang's household and plans her revenge.
Qi Yan is determined to rid the Tang Dynasty of the scourge of eunuchs and Ruo Yu pledges to help him. They end up falling in love. Will they be successful in getting rid of Qiu Shi Liang?
Review: I like Cheng Yi as an actor but was not a fan of "Love and Redemption". I thought this was going to be a conventional historical drama but it was filled with so many twists and turns that I was both confused and lost. Honestly, I'm mad that the drama did this. My hypothesis is that the producers were trying to drag out the drama…if not, why all of these random changes?? I could not put this down till the very end because I was annoyed and really wanted to know how it would end. If I had known, I would not even have started this.
The politics didn't make sense – was the uncle (guang wang) good or bad? The drama seemed like it couldn't make up its mind. If he was good, why did he plot against Qi Yan? If he was bad, why did he change his mind in the end? Honestly this story could have ended much earlier if the uncle had a clear good or bad agenda.
This was a total letdown for me. I wasted hours of my life on this nonsensical drama.
Overall Score: 1/10
https://pinkletterdays.com/wp-content/uploads/2021/09/Our-Secret-kdramadiary-o.jpeg
1206
2000
pinkletterdays
http://pinkletterdays.com/wp-content/uploads/2021/06/PinkLetterDays.png
pinkletterdays
2021-09-02 01:56:35
2021-09-02 01:56:37
What we've been watching (September 1, 2021)