What have we been watching this week? What kept you hooked for more or frustrated when you had to wait for episodes to air? What made you call quits? Here's to sharing what we've been watching lately:
Qing Qing Zi Jin
Synopsis: A mountain bandit and genius Luo Qiu Chi was bullied as a child when he went to the capital to take exams and become a scholar. He ends up failing the exam and is mysteriously attacked on his way home. He was rescued by a kind mountain bandit who taught him skills and knowledge. He ends up being the "robinhood" of the mountain region where he steals from the rich and cares for the poor. He accidentally meets a female student, Wen Ren Juan, who was traveling through the mountain region and "kidnaps" her. Fu Yuan Zhi who is Wen Ren Juan's childhood friend and is in love with her instigates a well-known young general to attack Luo Qiu Chi's mountain village to save Wen Ren Juan. They end up destroying Luo Qiu Chi's home and he is pushed off the cliff and believed dead. However, he ends up surviving and follows Wen Ren Juan to study at Zhuxiu Academy where he tries to track down his enemy. Through the ups and downs, he falls in love with Wen Ren Juan.
Review: It took me a few tries to start watching this drama because Kris Fan starts off as a disheveled and kind of rough bandit guy and I was really not into the starting episode.. After hearing good things, I decided to power through and the first 10 episodes or so were not bad. There was a 'genius' male lead who literally excelled at everything – Luo Qiu Chi battles the 10+ men who came to save the kidnapped ladies and they each picked something that they were good at such as painting, woodcarving, sword fighting, boxing, etc. and Luo Qiu Chi fights with them all at the same time. It's literally 1 versus 14, and he wins! Wen Ren Juan is your typical female lead who is the innocent younger sister and is bullied by her older sister and stepmother but is too silly and timid to do anything. The plot was fine and the male lead character was also fine but I lost interest after episode 14 because of just how un-engaging the drama was. I was annoyed with Wen Ren Juan a lot and Luo Qiu Chi just wasn't dashing enough as a character. The plot was also dragging on – who was the mysterious guy who literally attacked a kid (Luo Qiu Chi when he was young)? What is the new mystery now with the political intrigue around Wen Ren Juan's father? I got to the point where I couldn't care less.
Overall Score: 4/10 (dropped after episode 14)
The Love Equations
Synopsis: Adorable and bubbly, Zhou Xiao is a favorite among her peers. She is a Chinese literature student with a penchant for detective novels and loves Detective Conan. She spends her days lost in the pages of her favorite mysteries and is always eager to help those around her investigate mysterious events. She also writes her own online detective novel about a vampire forensic scientist. Her bubbly and happy-go-lucky personality attracts the attention of Zhao Fan Chou, who is not only the top student in the forensic science department but also the chairman of the student council. He is serious and reserved, and does things by the book. However, Zhou Xiao's bright and cheerful personality makes him smile and he finds himself falling for her.
Review: One of my weaknesses is for school romances and I was looking forward to this drama, which is the third after "A Love So Beautiful" and "Put Your Head On My Shoulder". I absolutely loved "A Love So Beautiful" and enjoyed "Put Your Head On My Shoulder" but somehow this drama did not quite deliver. Even Simon Gong, for all his cute dimples, could not save this drama for me. I think the female lead doesn't have enough draw to really make you want to keep watching this drama – as much as I wanted to love this drama, I just couldn't understand her imagination scenes and also how she was portrayed as a pretty empty headed character. And, if I couldn't like the female lead, why did the male lead like her so much? The chemistry and relationship progression didn't quite make sense to me. I kept going really to see the love confession and for them to get together.
Overall Score: 3/10 (dropped after episode 18)
Unforgettable Love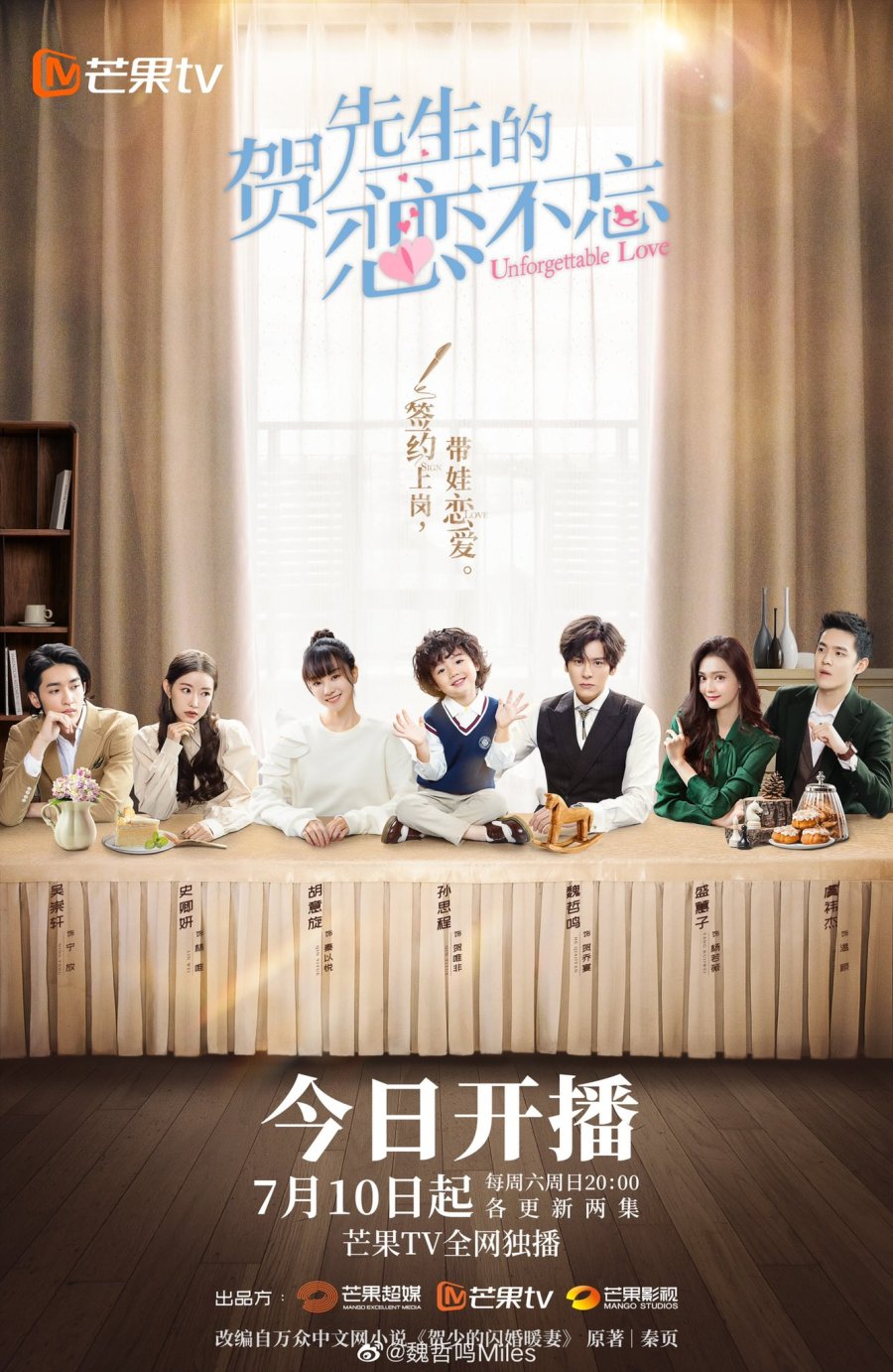 Synopsis: He Qiao Yan is the bossy and aloof CEO of Heshi Group. Qin Yi Yue is a kind and smart child psychologist. He Qiao Yan is the father of He Wei Fei, who is actually his brother's son and therefore his nephew. However, a tragic accident causes He Qiao Yan to end up being He Wei Fei's father and also causes He Wei Fei to lose his ability to talk. As such, he uses picture cards to communicate with others. Desperate to find a good doctor for He Wei Fei, He Qiao Yan ends up meeting Qin Yi Yue and manipulating her to become He Wei Fei's personal live-in doctor. Through a series of events, they end up falling in love.
Review: I've seen Miles Wei in "Perfect and Casual" and thought he was a decent actor. I liked this drama and thought that the addition of He Wei Fei was cute because of how just adorable and intelligent he was. I liked that Qin Yi Yue was a smart female character who had significant potential in the medical field. I think one of the major flaws of this drama for me was just how quickly their relationship progressed – essentially by episode 2, He Qiao Yan had already developed feelings for Qin Yi Yue. I wasn't quite sold on the chemistry and also the storyline was just a little too unexciting for me.
Overall Score: 4/10 (dropped after episode 12)
The Flaming Heart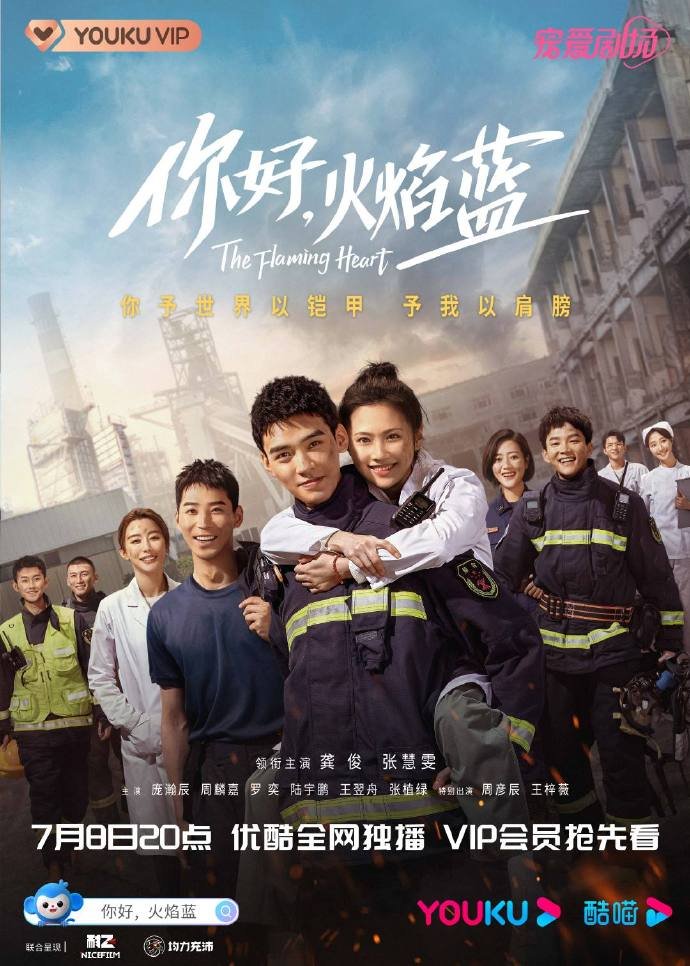 Synopsis: After Huo Yan graduated from the Civil Defense Academy, he becomes the vice-captain of the Fire Rescue Team. While driving, he rescued a pregnant woman from her car that was trapped by a fallen tunnel. As a result, he met Yan Lan, a doctor working in the Emergency Department as she was the doctor who was helping the pregnant woman. Yan Lan is impressed by his level-headedness and how he kept her calm during a stressful situation. However, their first face-to-face meeting was not a pleasant one and Yan Lan thought that Huo Yan was selfish while he thought that she was being unreasonable. They end up meeting again as part of an earthquake relief mission and through a series of life and death situations, end up developing feelings for each other.
Review: Another Simon Gong drama and he doesn't disappoint with his portrayal of Huo Yan. I liked the premise of this drama and it reminded me of "Descendants of the Sun", a Korean drama with a very similar plot line. However, this drama ended up being somewhat boring. Both Huo Yan and Yan Lan fall in love with each other pretty quickly and the drama seems to create a bunch of situations to "accidentally" bring them together and have them work with each other to save lives. The over-reliance of "fate" was a little annoying and at the end of the day, there wasn't enough substance to keep me hooked.
Overall Score: 3/10 (dropped after episode 10)
Mysterious Love
Synopsis: Having spent her entire life dreaming of the day she would land her first role, Ruan Nian Chu has worked hard to become an actress. However, while shooting at a remote location, she is bullied by a more senior actress to pick up props from an abandoned beach and ends up being kidnapped by a criminal gang who was operating in that area. Li Teng, an undercover law enforcement official, saves her from being taken advantaged of by the gang. He treats her well and eventually helps her to escape from the gang. During their time together, Li Teng is drawn to Ruan Nian Chu because of her bright smile and warm personality. While helping her to escape, the ship that he was on explodes and Ruan Nian Chu believes that he died in the explosion.
Five years later, Nian Chu and Li Teng meet again by accident at an event. They are brought together again because of a missing chip that contains important information about a criminal group. To protect Nian Chu, Li Teng once again enters her life to find the missing chip and destroy the criminal group. Although they had been apart for five years, they never once forget each other and still have deep feelings for one another.
Review: This drama was a pretty low-key, budget drama that doesn't have any well-known actors and is a short 16 30-min episode drama. I started watching it with low expectations and was pleasantly surprised. The story is simple and reasonable. The actors are charming in their own way and had great chemistry with each other. Although some of the male lead's expressions didn't quite fit the situation (e.g., when he was smiling the next time he saw her after they had broken up), the raw chemistry between the leads was well done and accurately conveyed their emotions for one another after a five year separation. This was an easy watch and didn't waste any drama time on loose plot holes or extended stories. This was a surprisingly enjoyable short watch!
Overall Score: 7/10
Love Is Sweet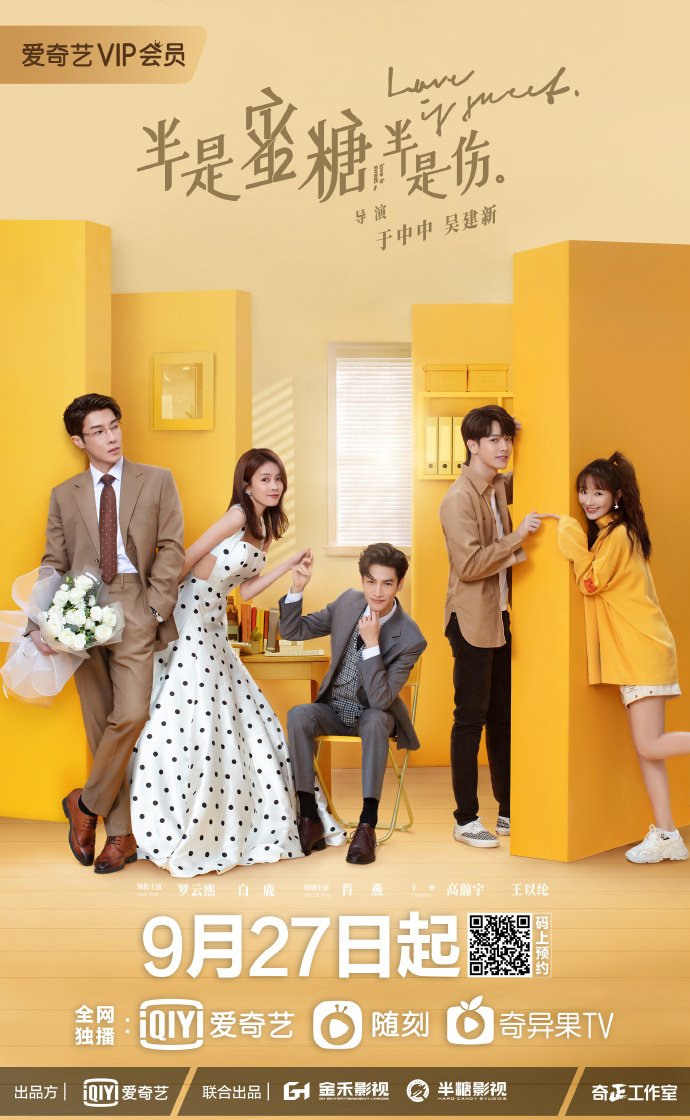 Synopsis: Jiang Jun is a girl who is severely allergic to tears. She has a double degree in economics and psychology and is unrestrained and idealistic due to her upbringing. She is very much loved by her parents and her father even "employed" her childhood friend, Yuan Shuai, to look after her at school. After graduation, she worked in a philanthropy organization where she pursued her dreams. However, her father's sudden accident and death causes her to decide to work in a top investment company to investigate her father's death. She aims to join MH but during the interview process, she meets her childhood friend, Yuan Shuai, who is one of the senior leaders of MH and the "unbeatable war god" of the finance world. Although Yuan Shuai initially fails her and kicks her out of the interview process, Jiang Jun perseveres and eventually enters MH. She encounters incident after incident which threatens her career at MH but through Yuan Shuai's help and her own instincts and kind nature, she eventually attains success in both her career and love life.
Review: I was initially very excited about this drama because Leo Luo and Bai Lu are two actors that I've had my eye on for a while. Sadly, this drama ended up being a mindless romantic comedy that serves up a lot of sweet cheesy romance between the two leads. The story was pretty draggy and boring, and honestly there wasn't a lot of substance beyond how cute and charming the two leads were. Their romance scenes ended up being very steamy but also hilarious because their kiss scenes were interrupted multiple times by various supporting characters. Despite the allure of the main leads, I just couldn't stay interested in this drama after the first few episodes. This was another miss for me.
Overall Score: 4/10 (dropped after episode 12)
https://pinkletterdays.com/wp-content/uploads/2021/08/332db66cb5b3474389d76500d91a373b.jpeg
872
1560
pinkletterdays
http://pinkletterdays.com/wp-content/uploads/2021/06/PinkLetterDays.png
pinkletterdays
2021-08-05 01:30:50
2021-08-19 05:52:12
What we've been watching (August 4, 2021)