What have we been watching this week? What kept you hooked for more or frustrated when you had to wait for episodes to air? What made you call quits? Here's to sharing what we've been watching lately:
Qing Luo
Synopsis: Amnesiac medical genius Yu Qing Luo was on her own when giving birth to her son Nan Nan. Seven years later, she is a highly acclaimed doctor and sets out to learn her true identity and find a father for her precocious son. On her journey, Qing Luo encounters Prince Ye Xiu Du of the Kingdom of Feng Cang. Mistaking him for a well-known casanova, Ye Pian Zhou, Qing Luo starts off being disgusted by him while he ends up falling deeply for her. Together, they end up treating mysterious illnesses while fending off political conflicts and defeating their enemies.
Review: I loved the first 10 episodes of this drama because it had a smart and actually talented in medicine female lead, a super cute and sassy son of the female lead, and a male lead who was also smart and talented at strategy and defense. Wang Zi Wei is the female lead who was also the supportive best friend in "A Love So Beautiful" and I've been watching her career since then. Liu Xue Yi is the male lead who I first saw in "Love and Redemption" and was also most recently in "Ancient Love Poetry". He has a great look for historical Chinese dramas but somehow, he never quite plays immensely likable characters. I was prepared to like him in "Qing Luo" because he was set up for success as the male lead here but episodes 15 and on really killed the vibe for me because of amnesiac issues. I was so confused by this drama – why are they creating so many amnesiac issues in one drama? Is one amnesiac not quite enough?
Overall Score: 2/10 (this really started as a 8/10)
Love Scenery
Synopsis: Liang Chen is a singer who devoted to bringing good music works to the listeners. She's also kind and loves her fans. Lu Jing is a computer science genius who is also great at gaming and a serious fan of Liang Chen. He is a highly popular game streamer and by a stroke of fate, ends up being enlisted by Liang Chen's friend to teach her how to play video games for a public performance. Through their interactions over the game, they grow closer and eventually fall in love.
Review: I love a cheesy romance drama and Love Scenery delivered. Good looking leads – check! Cute and cliche plot – check! Great singing and some action-filled gaming scenes – check! I don't know about you but sometimes I just want a mindless romance drama that is easy to watch and doesn't require a lot of thinking on my part. I liked just how nice the leads were and it made you just root for them from the start. I also appreciated the male lead knowing what he wanted and pursuing Liang Chen.
Overall Score: 6/10
Summer Again
Synopsis: Ballet dancer Tong Xi is forced to return from the big city to her hometown due to her mother's job transfer. She is misunderstood as a "white swan" by her classmates who think that she is an award winning ballerina and top student. As a result, she tries to hide her tough girl personality by pretending to be a gentle and demure "white swan". However, her childhood friend, Lin Nan Yi, is also in the same school and same class as her. He knew what she was like as a little kid and could easily expose her false exterior. Tong Xi tries to get Nan Yi to play along with her and they have a series of misunderstandings from their childhood. Through interacting more with each other after being back in the same town to relying on each other for help when in difficult situations, Tong Xi eventually resolves her misunderstandings about Nan Yi. This whole time, Nan Yi has had feelings for Tong Xi since they were kids. Tong Xi also eventually learns that Lin Nan Yi is the comic artist that she has admired for a long time!
Review: Wow I was not expecting much out of this drama at all but I really enjoyed it. I loved the friendship between Tong Xi and Nan Yi as well as their best friends. Nan Yi also played the role of a supportive but not overtly moony friend well. You could tell that he really cared for Tong Xi but he's not going to just let her do whatever she wanted to. He was truly a good friend to her and helped guide her to do the right thing even when it was hard. I find childhood romances pretty hard to believe normally but Summer Again did it well!
Overall Score: 8/10
The Long Ballad
Synopsis: The year is 626 C.E, and the realm and the political capital of the Central Plains, Chang'an, is shaken by the Xuanwu Gate Incident, which was a successful palace coup by Li Shimin, later known as Emperor Tang Taizong who founded the Tang Dynasty. Li Shimin, the second prince, leads a bloody coup and kills the crown prince, Li Jianming, and his family. However, Li Chang Ge, who is the daughter of Li Jianming, escapes the killing as she was sent away right before the coup by her mother as her mother had known what was coming. Chang Ge returns back home and sees Li Shimin exiting her mother's room with blood on his sword. She sets her mind to take revenge on her second uncle, Li Shimin, for killing her family and tries to muster a powerful army that is capable of overthrowing the new Emperor. However, her plans fail and she is repeatedly saved by Ashile Sun, a brave and skillful general from the grass plains. She tries to protect one of the Northern cities from the Ashile tribe but fails. Ashile Sun takes her in his service and makes her his military strategist. They end up fighting their political enemies and falling in love.
Review: There was a lot of hype around "The Long Ballad" when it came out because of the high profile actors – Leo Wu, Dilraba Dilmurat, Zhao Lu Si. Zhao Lu Si is one of my favorite female actresses because her acting skills are top notch! I loved her in "The Romance of Tiger and Rose" and many other dramas and she did not disappoint in this drama as a timid princess who ends up lost and poor, and has to fend for herself. Her character growth was truly amazing and Zhao Lu Si showed the full range of emotions really well. Dilraba Dilmurat is perhaps best known for her role as Feng Jiu in "Three Lives Three Worlds The Pillow Book" which was hugely popular. She is one of the most beautiful actresses and has a really unique look because of her Uyghur ethnicity. Her character in "The Long Ballad" is tough, sassy, loyal, and smart, which is a change from her innocent and not-very-capable character as Feng Jiu. Leo Wu was the biggest surprise for me. If you have not watched "Nirvana in Fire" yet, please do yourself a favor and watch it! "Nirvana in Fire" is my all-time favorite Chinese drama and it was a huge hit in 2015. Leo Wu became very popular as a result of that drama because he plays a cute and talented teenage bodyguard called "Fei Liu" (see gif below). I struggled at first to not think of Fei Liu everytime I saw Leo Wu in "The Long Ballad" but wow, he has really grown up! I was honestly shocked and pretty amazed that Leo Wu (who is currently 21yo) could portray such a strong, courageous, manly character in "The Long Ballad".
Overall Score: 9/10
Falling Into Your Smile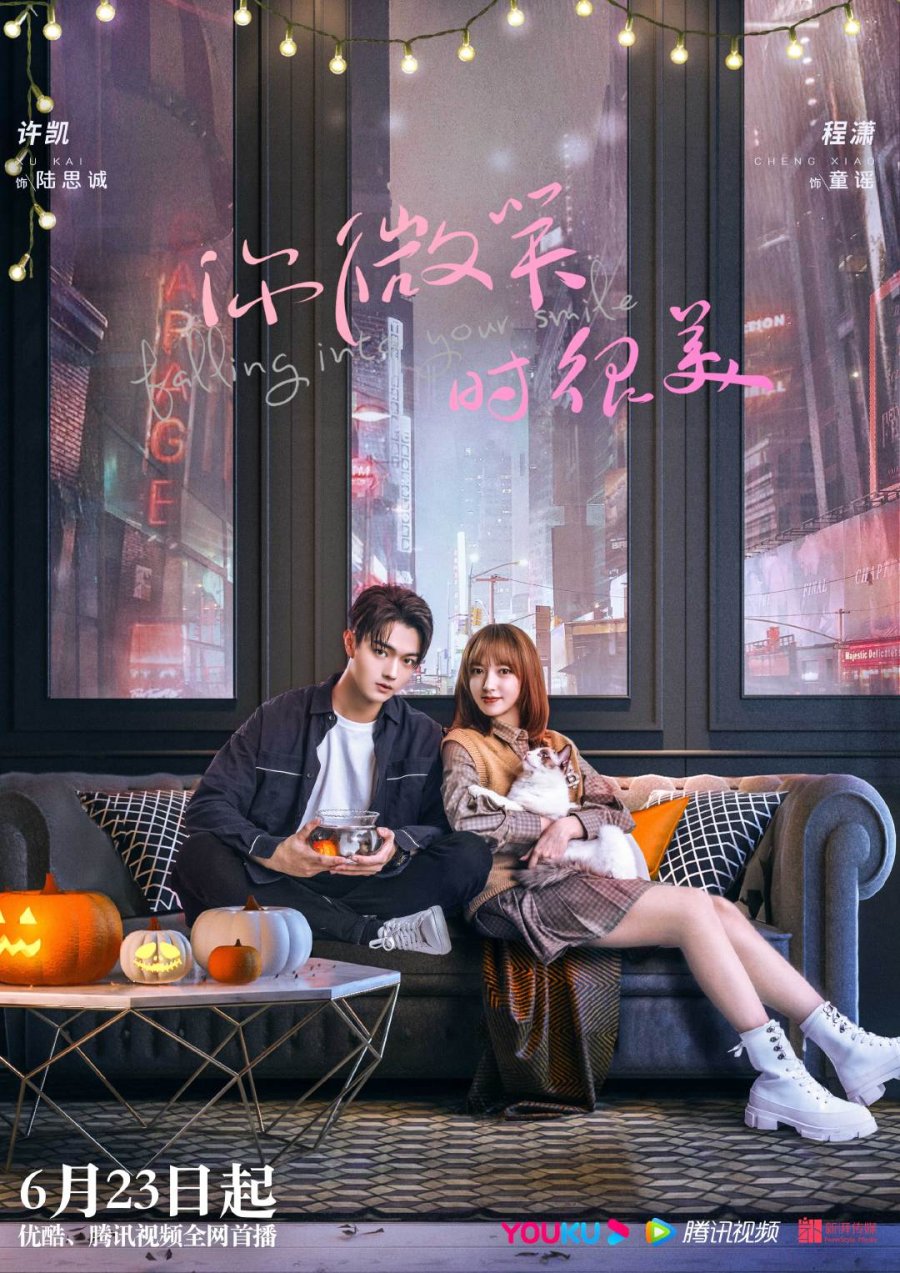 Synopsis: In the ultra-competitive and all-male world of e-sports, the ZGDX team is second to none. Armies of adoring fans follow the team but ZGDX unfortunately loses out on the National Championships when one of the team's star players, Ming Shen, suffers a hand injury. After the tournament, Ming Shen announces his retirement and the ZGDX manager recruits Tong Yao, the number one ranked gamer for one of the game's characters. Although her parents initially opposed her become a professional gamer, she decides to join the team and meets the tall, popular, and notoriously hard-to-please ZGDX captain, Lu Si Cheng, and the other teammates. Although Lu Si Cheng and some of her teammates are initially skeptical of her skills and ability to replace Ming Shen in their team, Tong Yao eventually wins them over with her hard work and skills. Over time, Tong Yao and Lu Si Cheng eventually form a close bond and fall in love.
Review: This drama is adapted from the web novel "You're Beautiful When You Smile" (你微笑时很美) by Qing Mei (青浼) and I have a partiality for dramas that are adapted from novels because the plots are generally better. I was anticipating this drama for a while after watching "The King Avatar" and "Go Go Squid" as I really enjoy the action and high stress scenes in gaming competitions. Funny because I'm not a gamer myself. "Falling into your smile" is not the most amazing drama but if you're looking for an easy, lighthearted watch that touches on themes of gaming, friendship, romance, and competition, it hits the spot. I have also been on a recent Xu Kai run with "Court Lady" airing, then "Ancient Love Poetry" and now "Falling Into Your Smile". Xu Kai's unique looks (given that he was a model it's not surprising) helps with his roles for sure. Cheng Xiao, on the other hand, confused me somewhat with her acting – I wasn't sure if she was meant to be sassy or innocent. She kind of fluctuates between the two throughout the show and I think that's more indicative to her lack of acting experience than anything. All in all, this was a fun watch that I was in the mood for and if you enjoy gaming, all the more a good one to watch!
Overall Score: 7/10
Ancient Love Poetry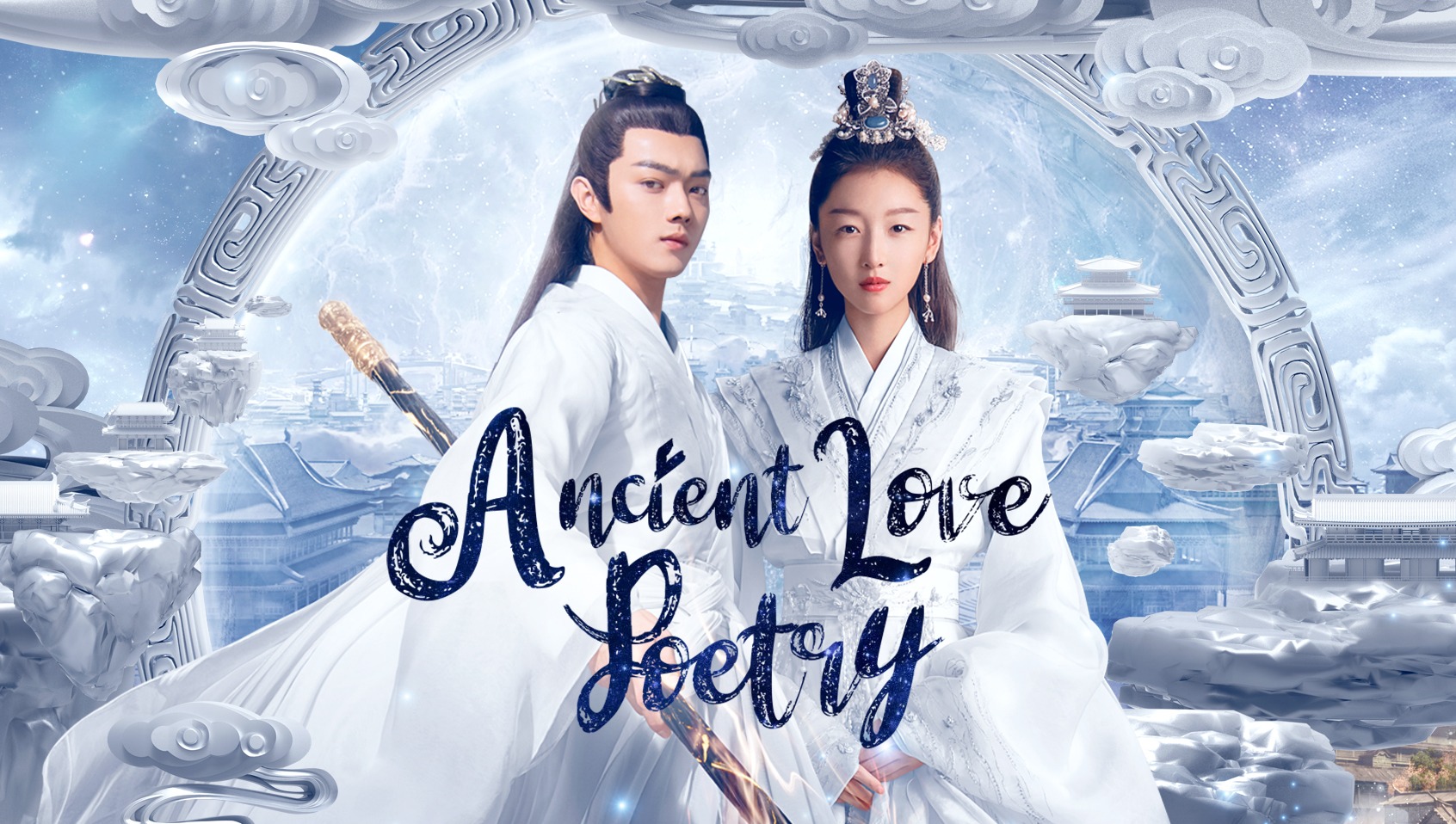 Synopsis: Shang Gu is the youngest of four highest ranking immortals but also the only one of the four who has a special "hun dun" power. As such, she is the leader of all the immortals. While she was young, she was not able to increase her spiritual power because of some blockage. Zhi Yang, the current ruler of immortals, asks Bai Jue, a cold and aloof immortal who has never lost a battle before, to help train Shang Gu. Bai Jue reluctantly agrees and Shang Gu is able to successfully grow and become stronger. However, as the leader of the immortals and only one with "hun dun" power, Shang Gu is required to sacrifice herself in a trial to protect the world from destruction. Bai Jue tries to stop her and as a result, Shang Gu ends up being "reborn" as Hou Chi. Bai Jue is also "reborn" in the story as Bo Xuan and later on as Qing Mu. Hou Chi and Qing Mu feel a strong connection between them and gradually fall in love. After 60,000 years, Bai Jue is reawakened and Shang Gu is also reawakened after a series of events.
Review: Another Xu Kai drama that aired around the same time as "Falling into your smile". I had high hopes for this drama because I love xianxia dramas – the costumes, the setting, the political drama, the fight scenes! This drama actually garnered a good amount of controversy around Zhou Dong Yu, who played Shang Gu, in the drama. Many people commented about how she wasn't beautiful enough for the role as Shang Gu's character in the book was supposed to be an incredibly beautiful goddess.
Those comments aside, I was disappointed by this drama for a few reasons. First, both Xu Kai and Zhou Dong Yu's acting was a little off for me. There were many scenes in the beginning where Xu Kai is meant to be this cold and aloof war god who has only known fighting but he breaks out into these smiles from the very beginning which felt weird. Zhou Dong Yu also has a very "smiley" character which felt like their relationship grew a little too fast for the pacing of the drama and then later on when she should have been heartbroken that Xu Kai was supposedly going to marry the princess, she did not seem as sad as she should have been? All in all, the acting wasn't quite on point but wasn't terrible.
Secondly, wow I was really annoyed that the drama literally kept Shang Gu and Bai Jue apart till the last 10 minutes of the show! What are you doing, drama! It seemed silly that literally for the last third of the drama, Bai Jue kept Shang Gu at an arm's length away because he wanted to sacrifice himself for her sake and there was this conflict that was not resolved till the very end of the drama. I kept watching because I wanted to see Bai Jue and Shang Gu's reunion and was disappointed by how abrupt it happened at the end.
Those flaws aside, if you love xianxia dramas, this isn't a bad drama to watch. If you're looking for something similar to Three Lives Three Worlds, this isn't quite it.
Overall Score: 7/10
https://pinkletterdays.com/wp-content/uploads/2021/07/eN5EY_3f.jpeg
1311
900
pinkletterdays
http://pinkletterdays.com/wp-content/uploads/2021/06/PinkLetterDays.png
pinkletterdays
2021-07-29 01:28:29
2021-08-19 05:52:15
What we've been watching (July 28, 2021)